A challenge to folding bicycles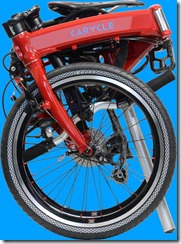 As the interest in health and the environment increases, more people enjoy riding bicycles as a sport.
After the Great East Japan Earthquake, bicycles gained attention because it does not need fuel, and is not affected by road conditions. At the time, bicycles were very useful as a means of transport.
In this social situation, a group of craftsmen called TECHONE decided to challenge to folding bicycle as a next step.
Bicycles handy and easy to carry about will make our activity ranges wider with the assistance of public transportation.
However, there are still problems in the current folding bicycles for example, some of them are too big to carry even though expensive, take a long time to fold up because of the too many joints, and lack of traveling performance as a drawback.
After all, most of the owners don't fold it up, and use as MINIVELO.
We TECONE make real folding bicycles. "Compact" "Lightweight" "Performance" Above all, folding bicycles should be easily folded up. CARACLE-S is the first real folding bike in the world that can be folded within 20-inch tire size, and it is our first step. Please keep paying attention so that you can see our second step.
CARACLE-S product infomation
Site Menu